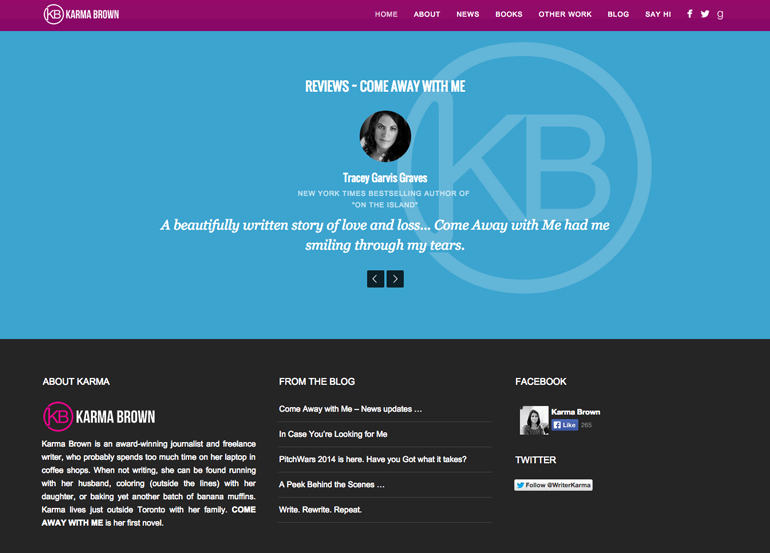 ---
I recently had the pleasure of working with Karma Brown, a Toronto based writer whose first novel "Come Away With Me", will hit the shelves later this summer. She came to me for a redesign of her website as well as a logo that could help solidify her own personal brand. Check it out at www.karmakbrown.com.
When did you decide that you wanted to become a writer? And how long have you been writing?
I only decided to write full time when my daughter was a year old, at which point I quit my corporate job and started taking freelance clients. Deciding to become an author happened a couple of years later, and I hope it's the career I'll still be doing when I'm 85!
What inspired you to write "Come Away With Me?
So many stories focus on the experience of falling in, or out of, love, and I wanted to explore what can happen to a great marriage when tragedy strikes — does it pull people closer, or force them apart? Also, I was inspired by my cancer diagnosis at age 30 to write a story about how tot move forward, and how to find happiness again, when your life changes overnight.
What are some of the challenges you face when writing?
Oh, there are so many! Time is a big one — I'm mom to a 6-year-old girl, who is an only child, so a lot of my time when she's not at school is about the kiddo (as it should be). I'm also challenged by my own need to procrastinate (I love deadlines — they force the good stuff out), and staying motivated when I'm struggling with a particular plot point or story revision.
What has been your greatest accomplishment?
Aside from our child, I'd have to say this book has been my greatest accomplishment — it's been a long time goal, and I keep pinching myself that my book is going to be on a shelf soon. But I should be clear that I don't feel "lucky" — hard work, not luck, had everything to do with it! 🙂
How has Marina helped you accomplish your design goals?
Three big ways: 1) Communication — Marina's response time was amazing, and her ability to hone in on what I was looking for (via email, I might add) was impressive, 2) Follow through — she delivered, faster than I expected, and did exactly what she said she was going to do, 3) Final product — the site looks beautiful, does exactly what I need it to do, and I know she's there whenever I need her!
Website: www.karmakbrown.com
Twitter: @writerkarma
Facebook: www.facebook.com/writerkarma
---
Karma Brown is an award-winning journalist and freelance writer, who probably spends too much time on her laptop in coffee shops. When not writing, she can be found running with her husband, coloring (outside the lines) with her daughter, or baking yet another batch of banana muffins. Karma lives just outside Toronto with her family. COME AWAY WITH ME is her first novel.